NTT DATA has been recognized as a Major Contender in Everest Group's 2022 Conversational AI PEAK Matrix® Assessment
Jenny Machado
|
| November 15, 2022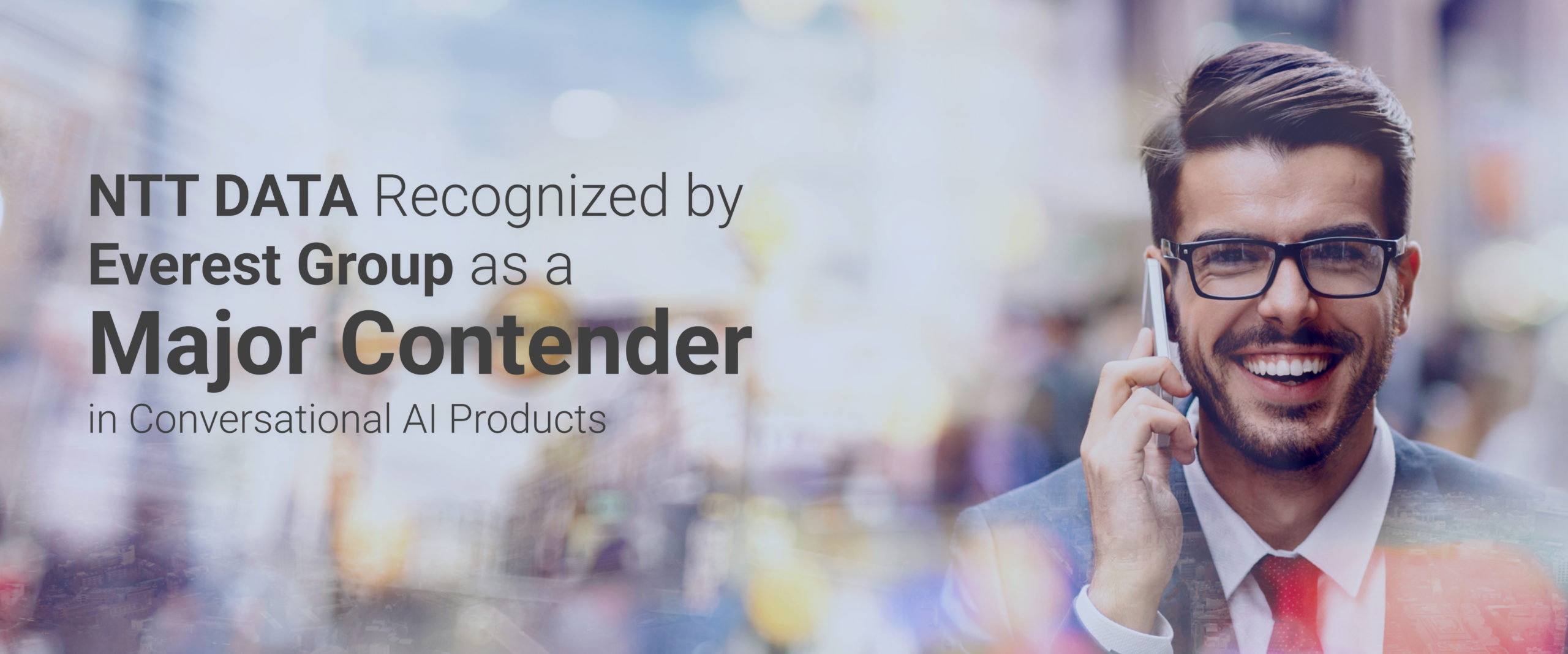 We are pleased to announce that NTT DATA has been recognized as a Major Contender in Everest Group's 2022 Conversational AI PEAK Matrix® Assessment
This year's PEAK Matrix® Assessment evaluates 26 global Conversational AI vendors. Everest Group have analyzed market impact, vision and capability to deliver services. NTT DATA ranks as one of the strongest vendors in market impact and one of the top 10 Conversational AI vendors. 
The report provides an objective, data-driven comparative assessment of service and technology providers based on their overall capability and market success.
In this quadrant, Everest Group has evaluated competitors in the market, naming NTT DATA as one of the main competitors thanks to its Conversational AI solution.
From Everest Group they highlighted the strengths of eva, among them it is highlighted that the platform is made by a multidisciplinary team of professionals (technical architects, development specialists, data engineers, linguists, UX writers and QA teams); In addition, the platform is aimed at business users; Lastly, it offers native support in 53 languages ​​and has multiple developments in Portuguese, Spanish, English and Italian. 
eva, NTT DATA's enterprise conversational AI platform for creating and managing an unlimited number of virtual agents, helps contact centers handle written or spoken conversations accurately and at scale, while reducing the cost of service and improving the user experience.
With its powerful, no-code Dialog Manager, it enables conversational designers to create automated transactional conversations across any channel.
eva NLP delivers multilingual cognition and automated learning using a modern open architecture that enables the scalability and transactional power demanded by large organizations.
This demonstrates the efforts of a great team, who are focused on developing a high-level product that is helping large companies through its capabilities, constant improvements and artificial intelligence. We are proud to appear in the Everest Group quadrant.
View the Everest Group quadrant here
Must News